Buying Guide With The Best Balance Board Options
Trying to find the best balance board? Maintaining and refining physical balance skills is one of the most undervalued qualities, not just in sports like Stand Up Paddle Boarding but also in everyday life. Our balancing skills deteriorate as we become older.

It doesn't have to be that way because there are things you can do if you want to have this skill with you! In this post, we have included our Top Picks of the Best Balance Board Trainer that you can buy online and which has been proven to be the best and top-rated.
What Is A Balance Board?
Balance boards are a type of training equipment that can help you improve your coordination, agility, and balance. These balance boards resemble little surfboards or skateboards. They are supported by a rubber roller or a sphere, and the goal is to stand atop the board without allowing the sides to touch the ground.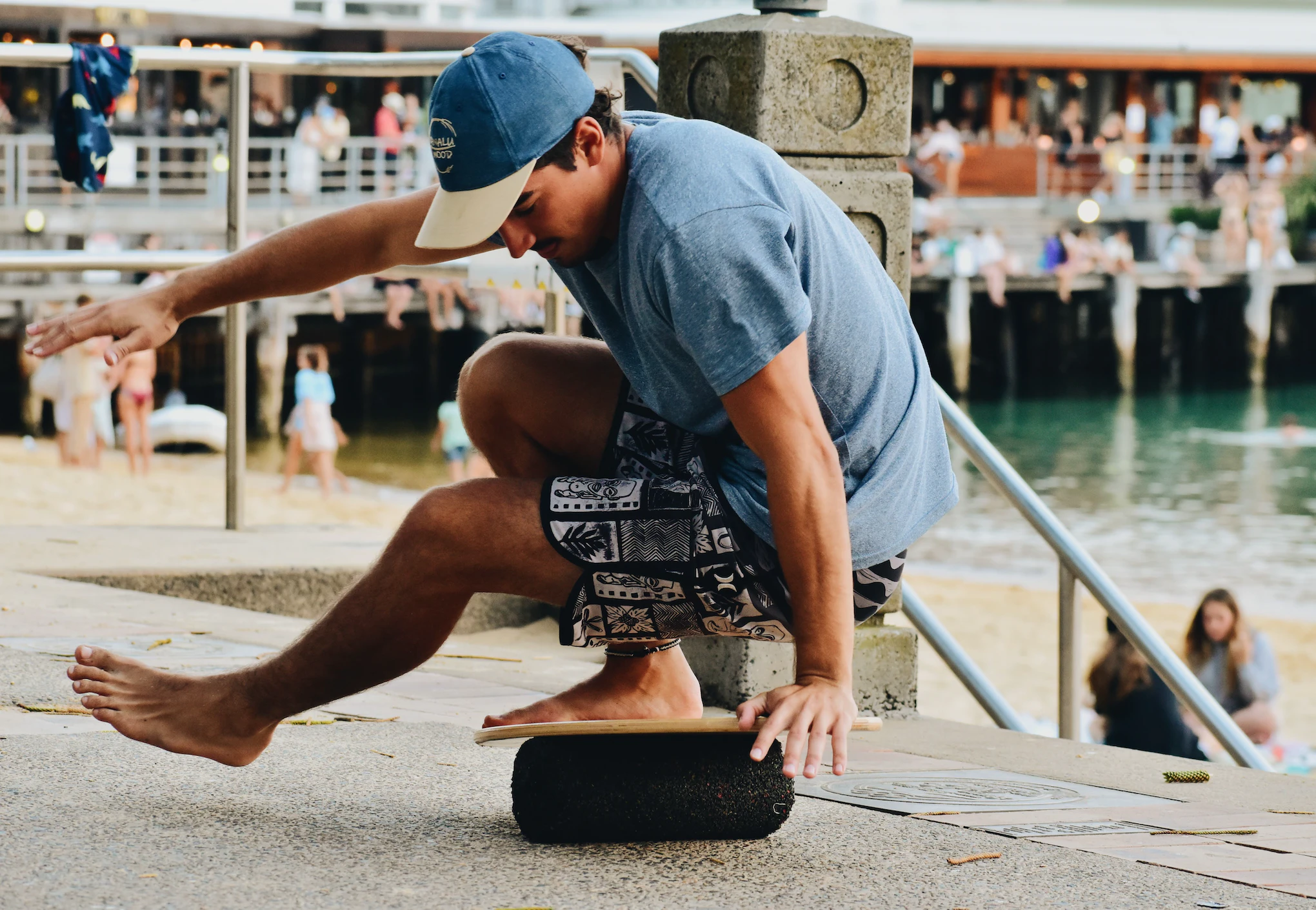 Top Rated and Highly Recommended Best Balance Board Picks
Best Balance Board: Everything We Recommend
SyckTrix Balance Board (Best Balance Board for Everyone)
Material: Wood
This balance board is ideal for your children and makes an excellent gift that they will enjoy playing with! With this authentic maple wood balance board, you may learn new techniques and improve your performance.

It includes a progressive top deck with a unique die-cut and an Eva form for a sure grip, comfort, and control. It contains velcro patches and adjustable Ollie Air Bladders that will improve your performance.

You can practice on this balancing board, especially if you enjoy snowboarding, wakeboarding, or any other sport that needs you to wear a strap!
Pros
Concave shape
Heavy duty board with 1100lbs or 500kg capacity
With Eva Foam for Sure Grip
Beginner-Friendly but also advanced performance
2 modes of training
Adjustable Ollie Air-Bladders
3 colors available
Cons
Could be too basic for the more experienced users
Indo Balance Board (Best Balance Board Overall)
Material: Wood
This is a popular balance board that has been widely utilized in all sports to improve athletes' agility, balance, and coordination. This is a fun and effective balance board, and you can choose from a variety of styles based on your preferences.

This board is made of cabinet-grade birch wood with a non-slip finish and a 6.5-diameter molded roller. Indo Boards have been endorsed by national and world Olympic champions, giving this brand a significant advantage over other brands.

This board will perform as it should! A great tool for honing your balancing skills. You'll also appreciate this balance board reviews, which highlights that this balancing board is fantastic and well worth it in every way!
Pros
Various styles to pick from
Wooden material that is long-lasting
With a non-slip surface
Excellent Quality
Value for Money
Cons
Pricey 
Not suitable for beginners
Fluidstance Balance Board (Best Balance Board For Teams)
Material: Rubber
Do you need a balancing board for your team? This five-piece standing desk balance board set is well worth your money because it is both convenient and portable, and your employees or teammates will truly appreciate it.

This is the best balance board for businesses and teams that want a supply of decks but do not require a Hi-5 rack! Using a deck at a standing desk is a terrific way to integrate more movement into your workflow, but FluidStance advantages may be enjoyed in any setting.
Pros
Sturdy balance Board
Mobility is Great
With 3 dimensional movement
Maintains Limit of Motion
Cons
Low Height
Feet without Padding
Revbalance 101 v2 – Balance Board (Best Balance Board for Stability)
Material: Premium Quality
This is on the list of the best balance boards since it can be used for all-around training, whether for pleasure, a workout, or any way you choose to utilize it. It comes with digital instructions to help you get started with the equipment.

This is also suitable for beginners because it is adaptable and allows you to grow further with its advanced settings. It has changeable stops via a mag switch. Because it features a distinctive traction surface, this balance board will also ensure that you are comfortable while exercising with your Barefeet. Durable and long-lasting!
Pros
High-quality materials used
Beginner-Friendly 
The magnetic Magswitch Roller Stop System is fully adjustable. 
Slip-resistant surface 
Including a Digital Start Guide 
Cons
Costly
Could be too advanced for beginners
BRRRN Balance Board (Best Balance Board for Skateboarding)
Material: Wood
This sliding board will improve your overall athletic performance by strengthening your core and improving your balance and coordination. This balance board is suitable for people of all ages and fitness levels. In just 30 minutes, you can burn up to 500 calories.

Olympic competitors also have high regard for this brand. This balance board is also suitable for beginners who want to develop their balancing skills. It adjusts from 6 feet to 5 feet and comes fully constructed with all accessories and instructions. This balancing board can be used on hardwood floors, carpets, and outdoor decks.
Pros
Good Quality
Worth the Money
Durable and Sturdy
Beginner-Friendly
6 Ft Adjustable
Features non-slip foam pads
Great Customer Service
Gives plenty of room to slide
Cons
Fitness Balance Cushion (Best Balance Board for Yogis)
Material: PVC
The Fitness Balance Cushion will help you develop your core strength and balance while also making your workout more enjoyable and engaging. This is an unstable inflatable cushion, so make an effort to stabilize yourself. You can also use this for yoga positions. If you can balance yourself while doing your arm exercises, you can use this to further develop your core.

This is composed of PVC and features a 13-inch-diameter disc-shaped cushion. It features one smooth side and one rough side for added traction. If you incorporate this finest balancing board into your regimen, you will be sweating.
Pros
Budget-friendly
Sturdy
With rough texture for extra grip
Rounded Edge Design
Cons
Smaller board than others on the list
WAHU Balance Board (Best Balance Board for Surfing )
Material:100% Wooden Balance Board
Many people adore and use the Wahu Balance Boards! This is composed entirely of wood for strength and durability. This balance board is constructed in Germany and is guaranteed to be free of plastic.

When you buy this balance board, you will receive free video training on how to balance professionally and quickly. These videos is also great for practicing tricks. The board bends in both directions along the longitudinal and transverse sides, increasing board mobility. This can also be used as a standing desk board to increase activity.
Pros
High Quality Materials Used
Durable Balance Board
Can be a standing desk balance board
Wide range of colors
Suitable for Everyone
Has Video Guide Included
Cons
URBNFit Wooden Balance Board Trainer (Best Advanced Balance Board)
Material: Wood
This URBNFit balance boards is suitable for both children and adults. This will benefit all of your muscle groups. This style of surf balance board might help you improve your balancing skills. Made of a durable popular wood, non-slip grip tape, and a smooth-gliding roller.

It includes a workout program to help you practice even more effectively. This is one of the Best Balance Board in The Market today!
Pros
Sturdy Balance Board
High-quality materials used
With Non-slip Grip Tape
Budget-Friendly
Cons
The tape loosens up after a period of extensive usage
Yes4All Premium Surf Balance Board Trainer (Best Adjustable Balance Board)
Material: Wood
One of the best balance boards on the list since it can be adjusted to your ability level. You can use this balance board to develop body control and increase performance whether you're a novice or an advanced user. It contains removable stoppers for adjusting the level to your liking.

It may be adjusted to 11, 16, and 22 inches. If you're an accomplished balancer, this balance board gives you complete freedom, allowing you to figure out new tricks. This is made of 15 ply premium wood and has a surface with an anti-skid Eva grip for a better grip. The anti-slip roller also works well on various types of flooring.
Pros
Fully Adjustable With All Skill level
With Anti-skid surface
Doesn't scratch on floors
Comfortable to use with or without shoes
Removable stoppers
Cons
Set Up Needed
Not Beginner Friendly
Yes4All Wooden Wobble Balance Board (Best Budget-Friendly Balance Board )
Material: Wood
This wobble board is a terrific addition to your exercise program that is also affordable. The Wobble balance board includes a 360-degree rotation and a 15-degree tilt angle, allowing for a dynamic action that engages your lower leg muscles and increases core strength.

This premium wooden balance board is made of high-quality wood and is 15.75 inches in diameter. It also has an anti-skid pad for a better grip while working out. This can also be used as a standing desk balance board at work or in the office to help minimize fatigue and back strain. Because it is lightweight and tiny, it is also portable.
Pros
Complete 360-degree turn wobble boards
crafted from high-quality wood
Portable and lightweight
Budget-friendly
With an anti-slip pad
Can be used as standing desk balance board
Durable Balance Board
Cons
Not Suitable for NewbiesSlippery in some types of flooring
NALANDA Wobble Balance Board (Best Balance Board For Seniors)
Material: PP and TPE Materials
This is a different style of wobble balance board with a 24.5 section angle that makes it more difficult to balance! It is made of high-quality PP and TPE materials that are non-toxic, making it safe for your children.

It contains an anti-slip top surface and a massage surface that you may use while standing to exercise and massage your fit. This is a heavy duty wobbling board that can support 660 pounds (300 kg). This wobbly balance board is simple to clean.
Pros
Balance board with 360-degree rotation
Balancing board that is solid and durable
Non-toxic materials have been used.
Wobble board suitable for children
Slip-resistant surface
All ages are welcome.
Surface Massage
Cons
Some people find the bumps excessively painful.
Not challenging for some
BOSU Balance Trainer (Best Balance Board Reviewed)
Material: Rubber
This balance board incorporates cardio, strength, and flexibility into one device. While using the balance board, you can perform several yoga positions, increasing the difficulty or improving your flexibility. This balance board comes with a pump and instructions for inflating it. It provides both dynamic stability and exercise.
Pros
Stable balance board
Many color options available
Durable balance board
Cons
Pump problems in some instances
Not challenging enough for active users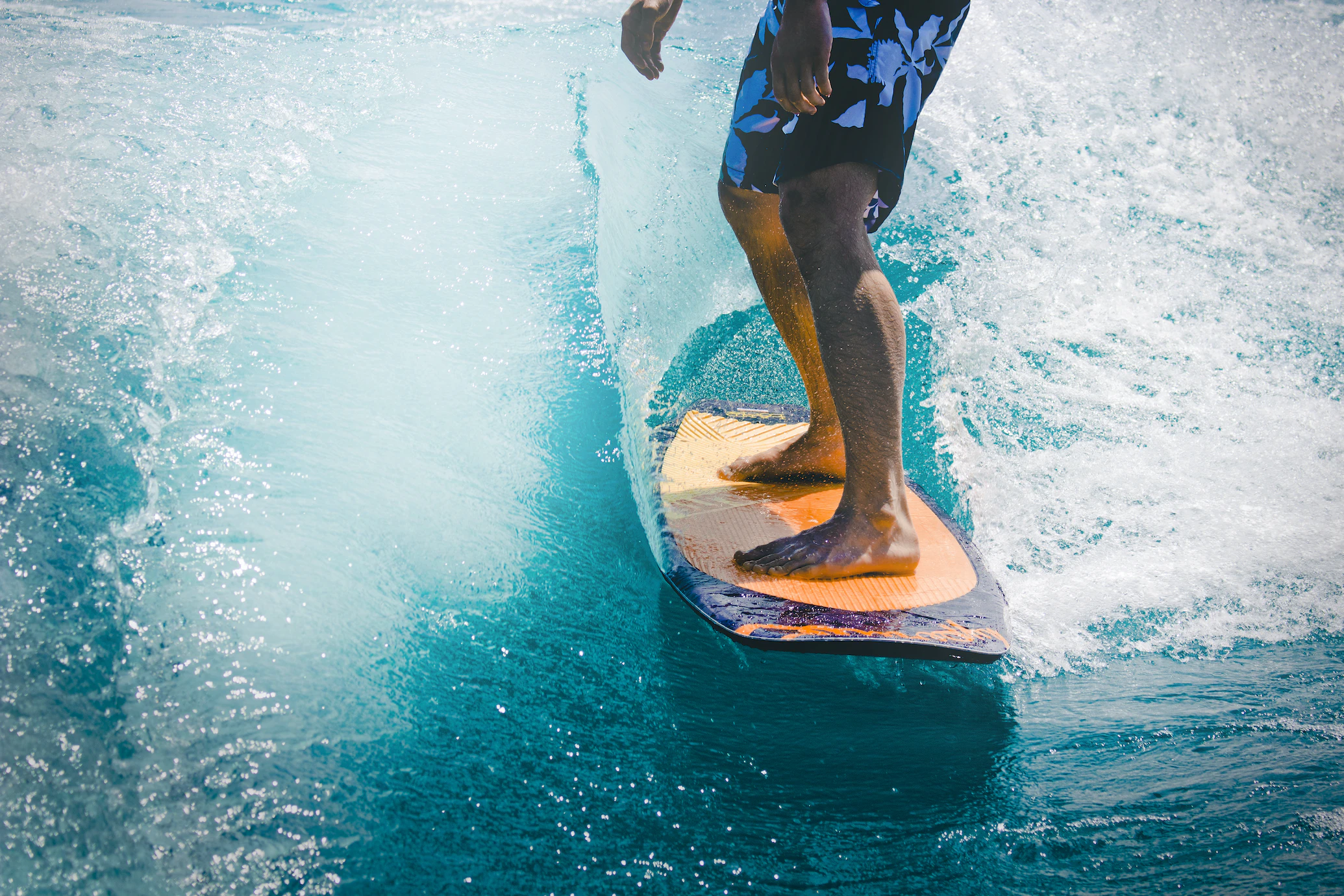 Who Typically Makes Use of These Balance Boards?
This device is used by anyone who wants to enhance their balance. Many skiers and surfboarders use this form of training to supplement their actual sport or to improve their skills. While maneuvering a balance board can be challenging at first, most people with normal fitness can keep their balance within about five minutes.
Criteria Used For Evaluation
The Material
There are balancing boards made of wood and plastic. Plastic balance boards are more comfortable to use. The wooden balance board is more durable. Make sure to purchase a balancing board that is appropriate for you and your preferences.
Style
These balancing boards come in a variety of styles, including Roller Boards, Rocker Boards, and Wobble Boards.
Roller Board. Skateboard design with a small cylindrical roller.
Rocking Board. A fixed rocker and a skateboard-style board.
Wobble Board. It resembles a giant spinning top and is supported by fixed spherical rockers.
Rolling Length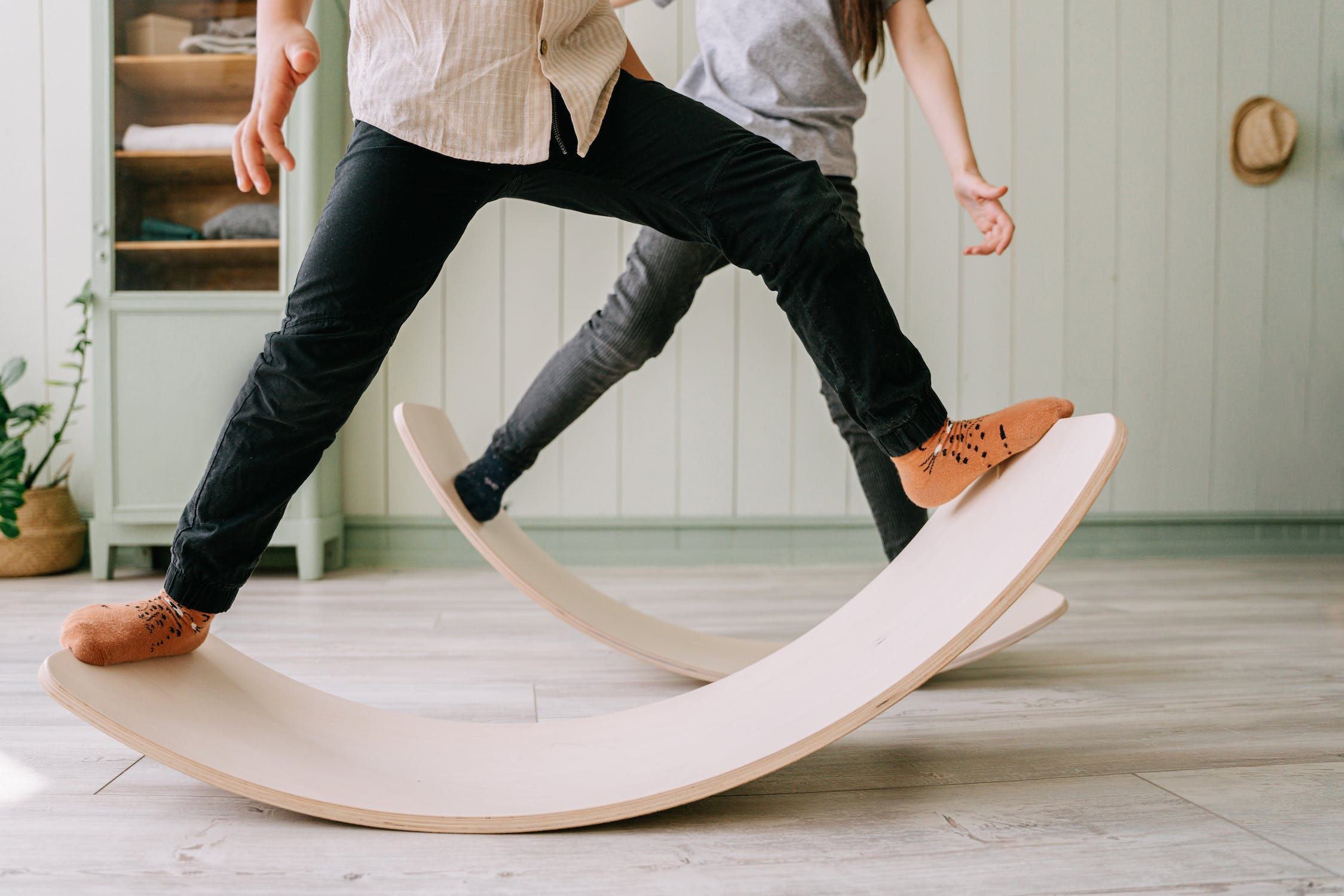 Consider how far the roller can move in any direction. Some of these balance boards have removable stoppers that prevent you from rolling completely. Some of the stoppers are also adjustable. A shorter roll length is more controllable and ideal for beginners!
Tilting Angle
A good balance board should lean in one direction or the other. The tilting angle will give you an idea of what to expect. A more slanted board would be more difficult but challenging!
The Competition
The market for the best balance board is extremely competitive! There are other balance boards brands that have released new products with unique features, sizes, shapes, materials, and pricing points!

You must look for a balance board that will help you maintain and improve your physical talents during your training. It is now up to you to decide which of these balance boards is best for you and your needs! Choose a difficult one to make your investment worthwhile!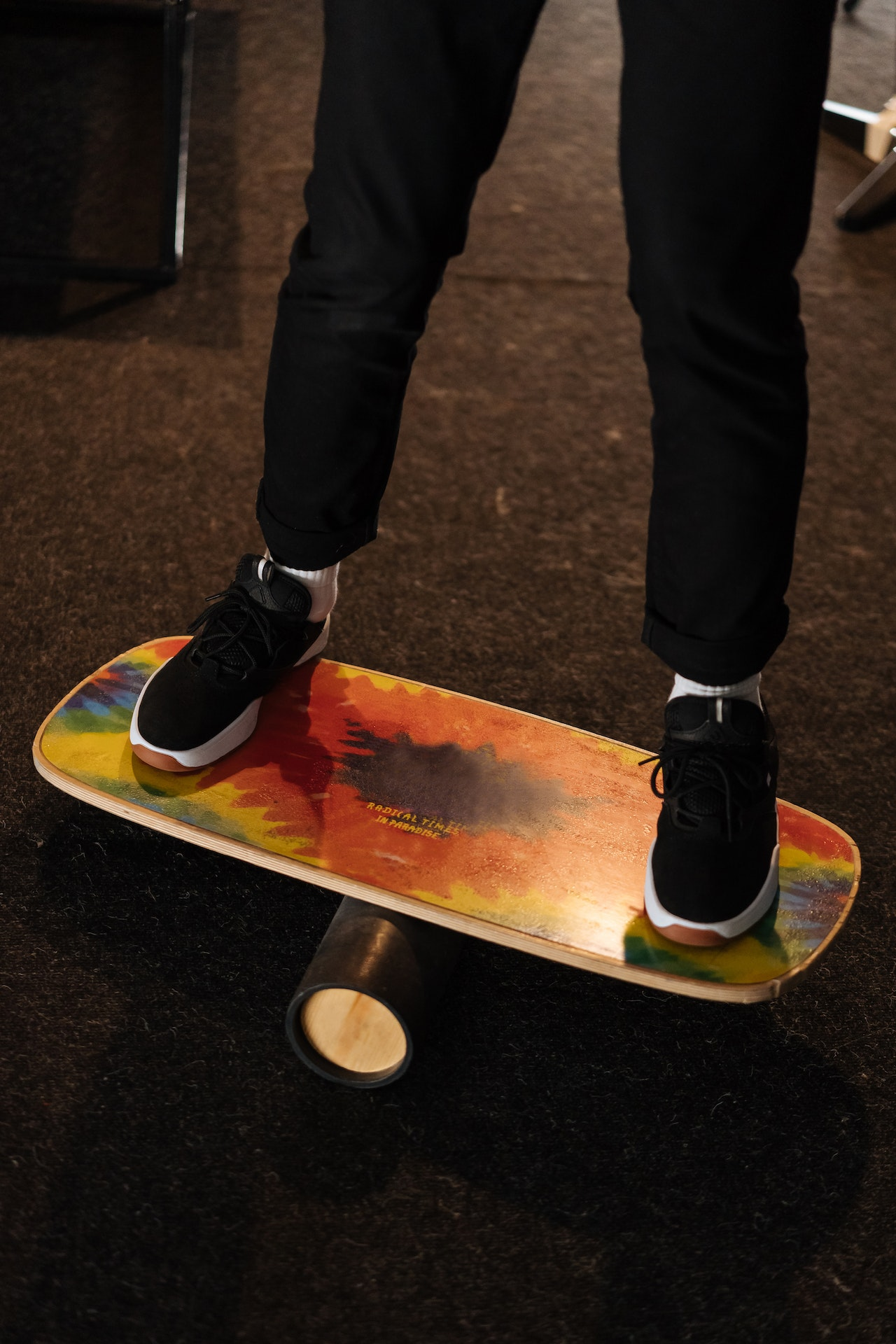 With our Top Pick on the list, it is a terrific offer that will provide you with pleasure and thrill as you improve your balance skills. This has no competition in my opinion, and it also has the advantage of having been used in any sport by notable sportsmen and in the Olympics at the same time.
FAQs on The Best Balance Boards
What is the difference between a wobble board and a balance board?
A wobble board is round in shape and has a spherical fulcrum situated in the center. The wobble board allows you to move the board in various directions. The balancing board is similar to a skateboard or a surfboard.
Are balance boards worth it?
Yes, balance boards are worth it. There are many balance boards on the market that act as physical therapy and are a great starting point for dynamic movement. Balance boards help you create stronger muscles if you want to improve your balance and coordination!
What is the best balance board trainer?
The best balance board we recommend is Indo balancing board. It is also frequently used by sports athletes, which is why it is one of the highest-rated and recommended boards on our list!
What age range should use a balancing board?
Balance boards are available for babies as young as 8 months to help them develop their balancing skills. Select a balancing board that is also safe for kids and will not injure them.
What is the finest balance board for seniors?
We recommend the NALANDA Wobble Balance Board for seniors because of the benefits it has to offer, especially the massaging surface.
Is it worthwhile to invest in a wooden balancing board?
A hardwood balancing board is an excellent choice because it is both robust and steady. What material you prefer for a balancing board is entirely up to you.
Conclusion – The Best Balance Boards
The balance boards listed above are our top balance boards for the best balance training on the market today! Each of these is a great balance board designed to get you moving and assist you in all aspects of daily life.

Balance trainers have numerous advantages. They are enjoyable to use and help you enhance various body abilities. You may improve your body shape by constantly working your muscles to stay on top of the balance trainer.

You will also notice a change in muscular tone. You will feel more in control of your regular activities if you learn how to use your body for balance. Every day, you use your sense of balance for many actions, and they will get easier as your body becomes more stable; you will not strain your muscles as much as you used to.

To keep balanced on the board, you must concentrate and respond quickly. Doing this repeatedly increases your mind's response to tasks. You will also notice that you are reacting more faster to physical obstacles.

It can also be used as a standing desk balance board, providing additional fun while standing at your desk. It will keep your core, lower back, and leg muscles active throughout the day. I hope I have provided you with the information you require.
Related Posts